Guide: How to Plan For Maternity Leave as an Entrepreneur with Danielle Langton
For years, Danielle Langton, an Austin, TX-based business strategist, has advised her female founder clients about how to better run their businesses in order to create a life, not just a living. Sometimes, it's the "life" part that's the hardest to strategize - and in October 2022, Danielle welcomed her first baby, Smith James, and experienced her first maternity leave.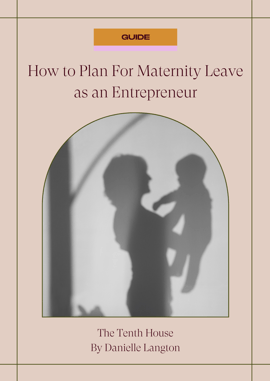 ABOUT YOUR RESOURCE
In larger companies, maternity leave policies are typically spelled out clearly (for better or for worse.) But if you're an entrepreneur, you may not have a maternity leave "playbook" - so how do you ensure the health and success of your business - AND yourself and your family - during this time?

In this guide, Danielle will share the key questions that she recommends any entrepreneurs ask themselves to plan for the smoothest, most aligned maternity leave possible.

WHAT'S INSIDE THIS GUIDE?
Introduction to Thinking About Maternity Leave (or any Parental Leave!) as Entrepreneur
Your Maternity Leave Vision
How to Organize and Activate Your Time Off
Key Areas and People to Prep
Common Maternity Leave Questions
By the end of this guide, you'll have a clearer picture of how to unapologetically organize your maternity leave in order to spend your time, energy and money on the priorities that matter most to you in your life and business.
Not a member of The 10th House? Now is the time to invest in you, invest in your business and get maximum results with an exclusive community by your side. We want YOU to join in on the fun and get all the vetted resources, events, workshops, connections, and advice that you need to be successful.
What's Inside The 10th House?
Access to over

150+ skill-building resources, bundles, and guides

Ability to participate in

business-building events
Intimate

networking opportunities

through virtual roundtable discussions and in-person events
Marketing and press access

via email spotlights, event hosting, and community connections
Live workshops, panels, and Q&A

with vetted experts across industries
Free venture capital road map and pitch deck template

bundle ($99 for non-members)
Submit form below to get your guide!